Biography (English)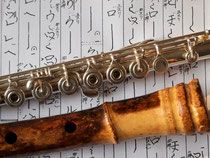 Hélène Codjo started her transverse flute studies at the Music school of Valence (France) in the class of Michel Toussaint, then went to the High Conservatoire of Music of Genève (Switzerland) in the class of Maxence Larrieu. While getting her diplomas, she started teaching the flute in music schools.
At the same time, she discovered some of worldflutes and fell in love with the Japanese shakuhachi.  She started studying it with Daniel Seisoku Lifermann (La Voie du Bambou) and from 2006, she has been following the masterclasses of Fukuda Teruhisa, who gave her in January 2013 a Jun Shihan degree with the name "Seiyu" (holy kindness), confirmed by a Shihan license (master) in 2015.
Hélène lives in the Netherlands where she gives lessons and workshops in her home place Nijmegen, as well as Dojo's in Rotterdam, Tilburg and Eindhoven, as well as concerts throughout the country. She has been performing solo or with Japanese and/or Western music instruments in various European countries.
She was invited to perform and teach at the World Shakuhachi Festival in London (2018), the International Shakuhachi Festival in Prague (Czech Republic 2019), the European Shakuhachi Summerschool in Veijle (Denmark 2017) and in Paris (2015). 
She also studied the Senegalese peule flute "tambin" with Baba Galaie and the Argentinian quena with Luis Rigou.
She's got a collection of around 50 flutes from 15 different countries.
She recorded a dozen of CD for children, for the labels Naïve, Frémeaux, Thierry Magnier, Textivores, using her different flutes.
From 2010, she has played in shows using her different world flutes.
She toured two years (2011-2013) with her own show «Flûtes !!», with the comedian Laure Gouget, produced by the Jeunesses Musicales de France, giving more than 100 performances. At the same time, she performed in shows about Japanese and Extreme-Oriental tales and poetry with the storyteller Fabienne Thiéry («Une saison au Japon», "Du désert aux îles Pacifique") (2010-2013).
Since she moved to The Netherlands in 2013, she has started new collaborations, especially with the storyteller Gerard Jellema since 2015.
As an author, she wrote two shows for the Orchestre de Paris and the Jeunesses Musicales de France, «Poupées russes» (2008) and «Entrons dans la danse !» (2009), which were performed in the Salle Pleyel in Paris.
Since 1992, she has written tales and shows for children for music chamber ensembles («Ménage à Quatre» for the Quatuor Debussy), music schools, symphonic orchestras (Orchestre de Paris), and has collaborated with composers. 
She won the First price of the national competition of St-Jean-de-Monts with her story "Capitaine englouti" (Ouest-France, 1993). 
 She worked at the Orchestre de Paris as music librarian (1997-2005) and as manager of youth programs and chamber music (2005-2009), and from 1994 to 2016, she collaborated regularly with orchestras (Orchestre National de Lyon, Orchestre National d'Ile de France) for writing program notes, concert presentations and documentation.